United Ways are independent nonprofits that bring together people and organizations to focus on innovative solutions to local challenges. Together, United Ways and their partners positively impacts the lives of millions each year and strive to go beyond a temporary fix by focusing on lasting, systemic change.  As part of a network of nearly 1,800 United Way organizations around the world—including over 80 United Ways in Texas—our local impact is part of global change as well.  The work of United Ways is accomplished through the passion of 2.8 million volunteers worldwide as well as the generosity of 9.8 million donors, who give their time, money, and voice to improve the lives of others.
United Ways focus on education, financial stability and health, the building blocks for a good life and a strong community.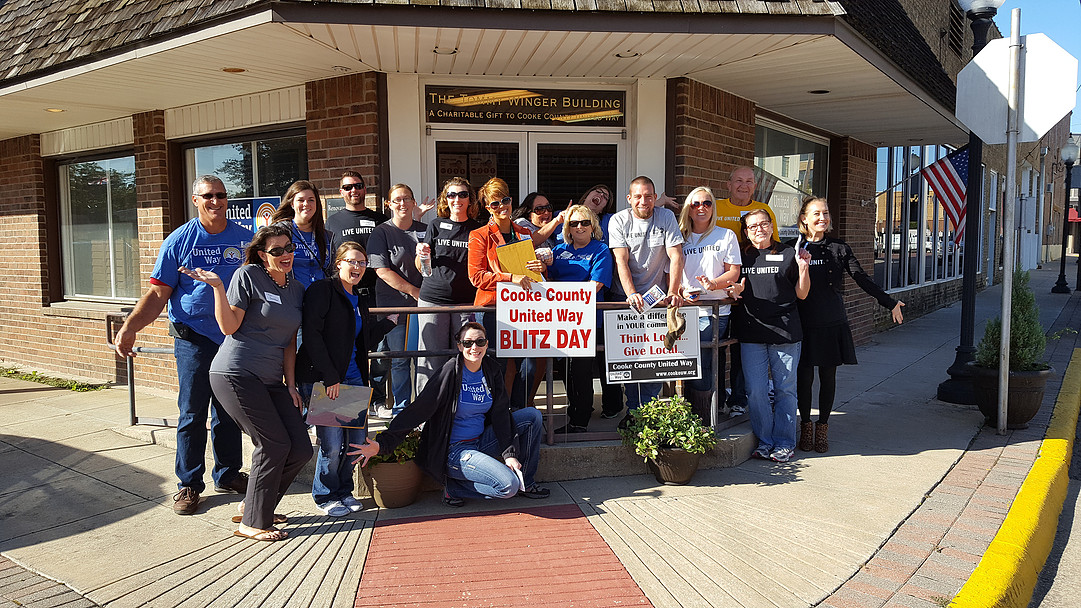 Every day, our volunteers, donors, and advocates are improving  lives in  many  ways: helping a child learn to read, donating money so people have access to quality medical care, supporting  policies that provide training for in-demand jobs, and so much more.
Local United Ways focus their work on meeting community needs, raising resources to support that local work, and being accountable to members of the communities they serve. In Texas, United Ways work with individuals, businesses, school districts, private foundations, the public sector, and other community partners.  This is one of United Way's greatest strengths: bringing local communities together to address local problems.
"What does United Way do?" from United Way of Smith County
FREQUENTLY ASKED QUESTIONS
United Way is a local movement of volunteers, advocates, partners, and donors committed to advancing the common good by mobilizing communities around education, financial stability, and health. We are specific about these investment areas as they are the building blocks for a good quality of life and the cornerstones of a strong, prosperous community.    With our network of cross-sector partners, volunteers, donors, and agencies, we work to address the most pressing challenges in every community to improve  lives. Together, we are ensuring that children and youth succeed, families are financially stable, and everyone has the opportunity to lead safe, healthy lives.
Dial 2-1-1 or visit 211Texas.org to be connected 24/7 to resources in your local area. This free, confidential, multilingual, and accredited helpline is available statewide and managed by community-based organizations like local United Ways. 
Each United Way is a separate 501(c)(3) organization with a governing board of directors made up of local community members who volunteer their time. The boards are independent and make all policy and funding decisions for each local United Way. Community members contribute to the United Way in their area to make an investment in their local community.  Your local United Way determines what community challenges to address with United Way resources, ensuring that local United Way dollars stay in local communities..  For more information about how local United Ways operate, please contact your United Way. 
You can join fellow community members and co-workers by making a contribution through each paycheck or by making a one-time contribution to United Way. To contribute, contact your local United Way.
While there are many wonderful charities doing great work across Texas, community challenges are complex, and no single nonprofit organization can address them alone.  Each local United Way determines where they can affect the greatest change and which programs offer the best results in these areas of needs. United Way convenes strategic partners who bring the right strengths to help accelerate and advance community progress in these areas.  
When you donate or volunteer your time with United Way, your investments become part of a collective effort.  In particular, United Way gifts enjoy a powerful multiplier effect, because contributions are pooled with other resources to increase the overall impact.  United Way's work is results-driven and research-based, ensuring each contribution to your United Way accomplishes more than you can ever do alone or through a single charity.
Local United Ways are independent, autonomous organizations that are owned and operated by local volunteers. Your local United Way determines what community problems it wishes to address with United Way resources, ensuring local United Way dollars stay in local communities.. The state and national United Ways serve as trade associations that assist and support local United Ways in a number of ways including staff and volunteer training, monitoring relevant state and federal legislation, and advocating on behalf of United Ways at the state and federal levels. 
Give
Donate to United Way and encourage your family and friends to do the same
Run a United Way workplace campaign to get your co-workers involved in giving
Volunteer
Participate in a United Way Day of Action or Day of Caring
Join one of your local  United Way's committees
Put a team together to work on a one day project
Attend a United Way community event.  
To learn about upcoming volunteer opportunities, follow your local United Way on social media or sign up for their newsletter. 
Advocate
Whether you're speaking out to improve education, financial stability or health, reaching out to elected officials, or wearing the LIVE UNITED shirt to show your support, you can help inspire hope and create opportunities for a better tomorrow.